Highlights
Klik gambar dibawah untuk memilih opsi.
??
 *Authorised Main Distributor of Susenji* 
 Susenji Orange Mofa, Susenji Gold Slimming Gel & Susenji Ohh! Nana

SHIP FROM SINGAPORE 


 1 Susenji Orange Mofa $66 
 1 Susenji Gold Gel $66 
1 Susenji Nana $68


 SUSENJI MOFA & SUSENJI GOLD GEL
BUNDLE PROMO AVAILABLE!!! 
 Apply Qoo10 Cart Coupon to save more!

 Purchase 2 for $117 (Save $15) $58.50/BOX
Purchase 4 for $225 (Save $39) $56.25/BOX 

NOV PROMO: 2 SUSENJI GOLD FOR $104!!!
PERIOD: 1 NOV - 30 NOV ONLY

SUSENJI OHH! NANA
BUNDLE PROMOTIONS AVAILABLE!!!
(MIX & MATCH)
Purchase 3 Nana for $188 (Save $16)
Purchase any 2 items for $126
Purchase any 4 items for $236




1 Box of Susenji Mofa contain 20 sachets x 15gms of Susenji Orange Drink



How to drink Susenji Orange Mofa


SUCCESSFUL CUSTOMER RESULTS!!!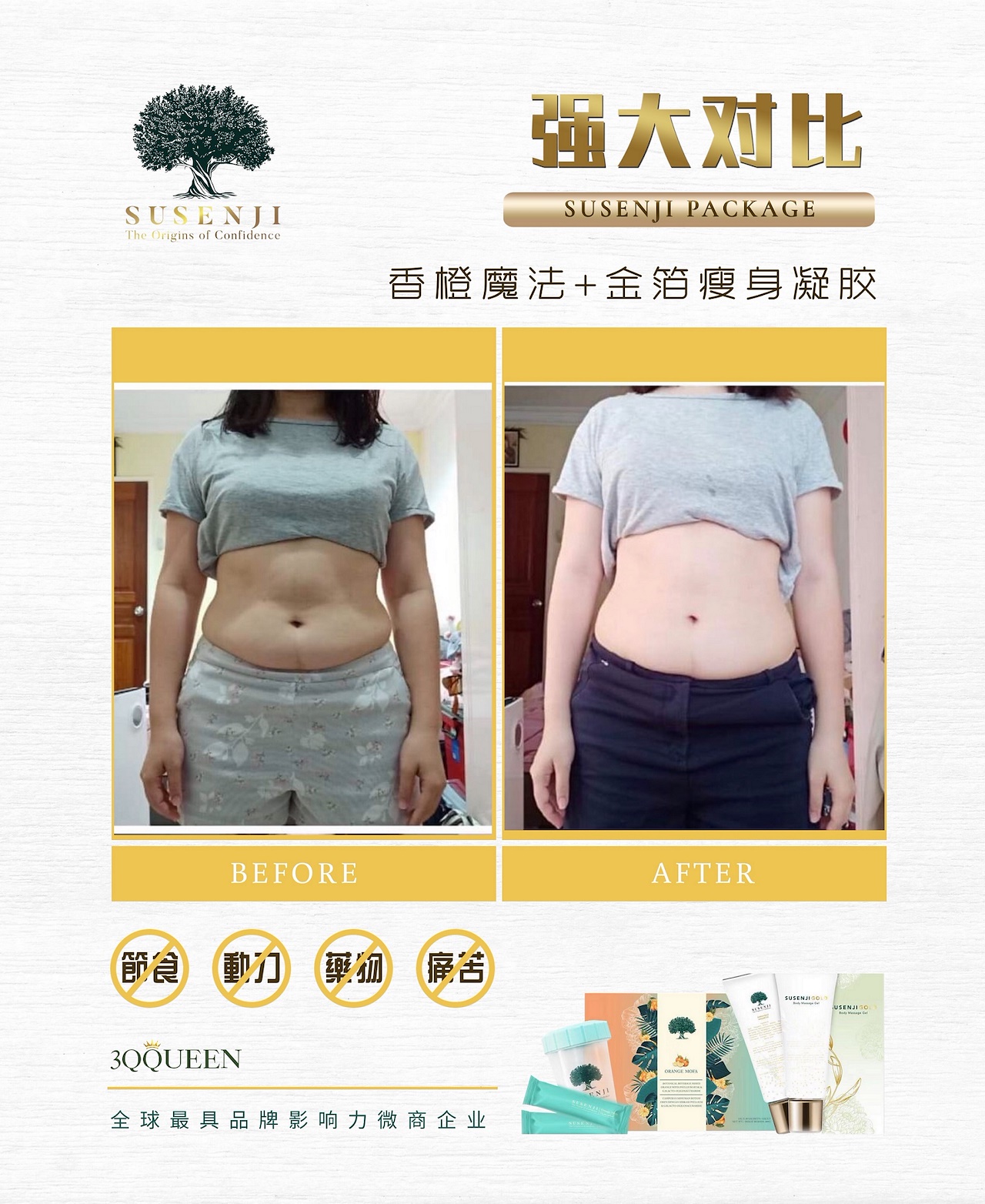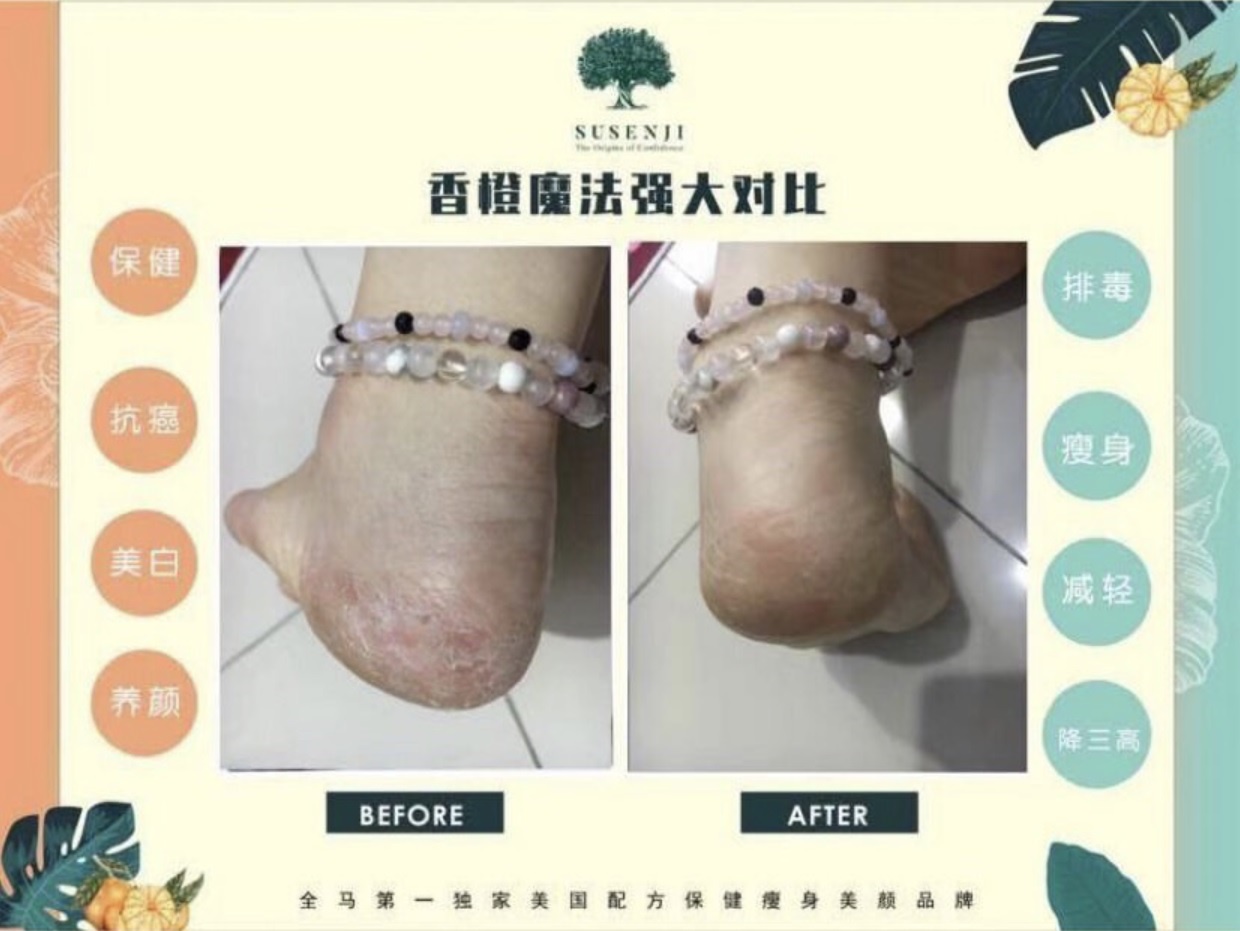 SAFE FOR PREGNANT MOTHERS AFTER FIRST TRIMESTER
AND BREASTFEEDING MOTHERS

Susenji Drink Orange Mofa FAQ

1. What is Susenji Drink Orange Mofa?
Susenji Drink Orange Mofa is 100% Vegetarian, all natural, orange-flavoured and essential healthy diet supplement drink for the modern day person. It combines various types of natural fruit fiber and prebiotics, which include fresh orange powder, psyllium husk, apple fiber, prebiotics (fructooligosaccharides) and comprehensive digestive enzymes.


 2. What does Susenji Drink Orange Mofa do?
Susenji Drink Orange Mofa helps to:
Remove waste to avoid toxic retention
Slim waist and flatten belly effectively, build an ideal body shape
Able to absorb and increases satiety to help shed pounds
Promotes metabolism to maintain a healthy weight
Keeps intestines healthy, improves bowel movement
Cleanses colon and keeps perfect skin
Improves memory and alertness
Balances body pH level, increases immunity

 3. Who is suitable for Susenji Drink Orange Mofa?
Susenji Drink Orange Mofa is suiable for the general population:
Men, women and children (12 years old or above)
Pregnant woman , breastfeeding mommies
Patients with high blood sugar, high blood pressure or high cholesterol level
People with constipation, edema, insomnia, menopause, irregular menstruation, stress, obesity, bad breath, dull skin and acne
Disclaimer: For pregnant women, please take after first trimester when the fetus is stable.
The recommended dose is 2-3 sachets a week.
Consult your gynae before consuming.


 4. How do I consume Susenji Drink Orange Mofa?
Pour a sachet of 15g Susenji Orange Mofa into the shaker
Add 150-200mls of room temperature or cold water (The amount of water can be adjusted according to individual taste)
Shake for a few seconds using a shaker until the powder is completely dissolves
Drink the delicious Susenji Orange Mofa right away
 5. What can I expect after drinking Susenji Drink Orange Mofa?
Any side effects like bad stomachache?
You will have gentle discharge of stools within 6-10hours, no colic/injury.


 6. What benefits can I expect after drinking Susenji Orange Mofa long term?
Benefits of detoxification from Susenji Orange Mofa include acceleration of metabolism, reduction of fats, a better digestive system, more balanced emotions, ease of defecation, glowy and radian skin, better quality of sleep, balanced hormones, detoxification of liver, gallbladder and colon, physical illnesses, and disease may be reduced, not gain weight as easily, body odour eliminated, improves menopause symptoms and improvement of three-high.

SUSENJI GOLD SLIMMING GEL
(NEW IMPROVED VERSION)




Ingredients of Susenji Gold
100% Plant Extract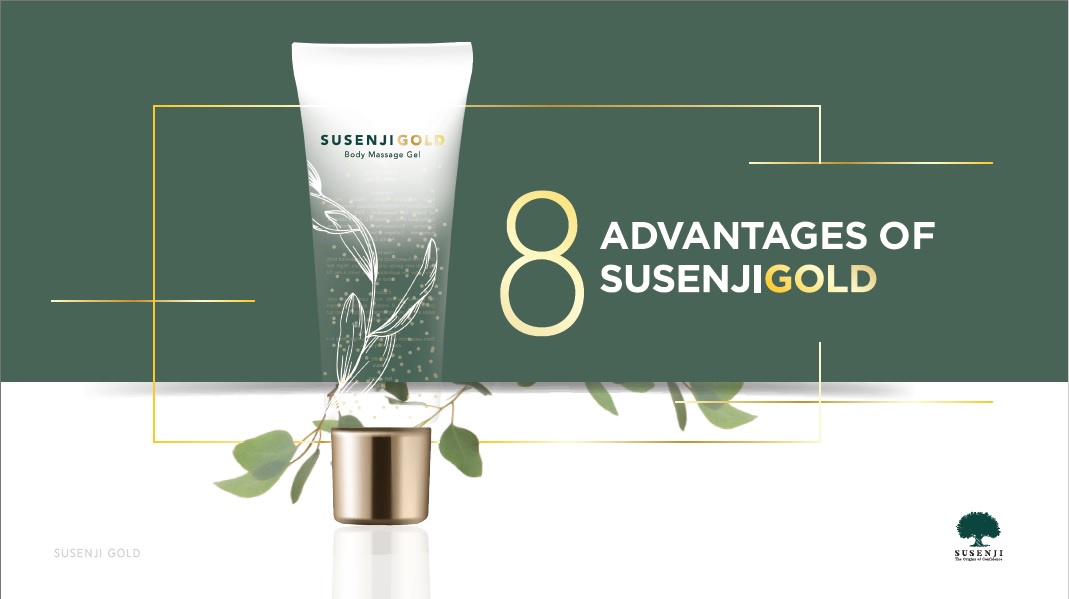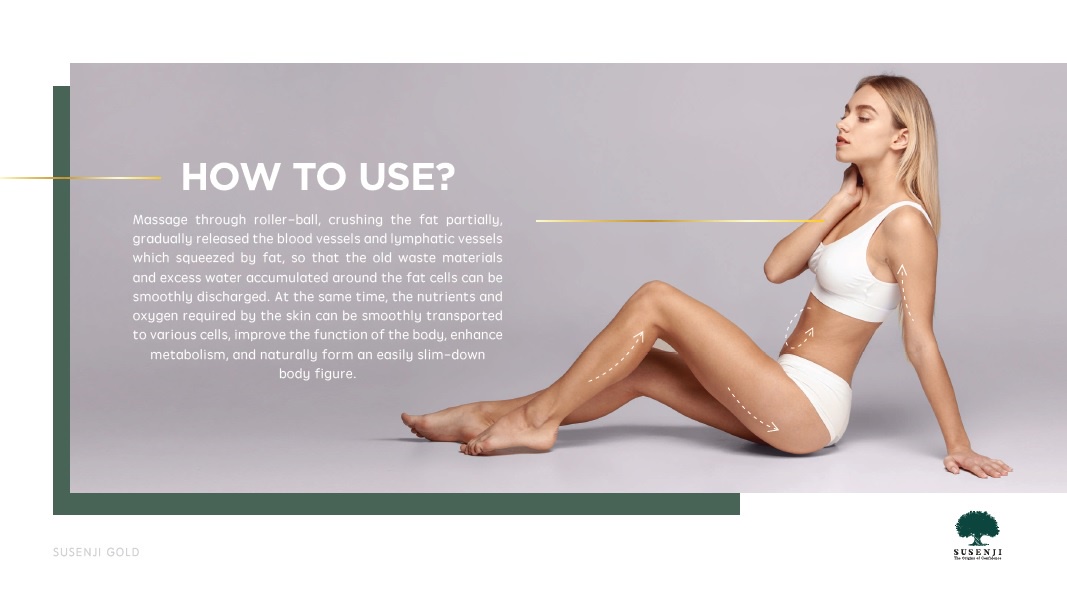 SUCCESSFUL CUSTOMER RESULTS!!!



RESULTS OF POSTPARTUM MOTHERS

Susenji Gold Slimming Gel FAQ

1. What is Susenji Gold Slimming Gel?
Susenji Gold Slimming gel is an ugpgraded version of the popular Susenji Gel. On top of the slimming properties of the previous gel, Susenji Gold boasts double the fat burning effects, skin whitening and anti-aging care. It also comes with a new medical-grade steel rollerball massage head, eliminating the need for a separate massager or using your hands.

2. What sensation would I expect?
The immediate sensation is cool and not oily. Upon massaging the gel in, you would experience a pleasant warm sensation. Sometimes your sin would be a little red and slightly itchy, there are normal symptoms as your blood circulation is stimulated and improved.  As there is no chiili ingredient, there is no burning sensation.


3. What is the difference between Susenji Gold and Susenji Gel?
Susenji Gold has upgraded ingredients:
Hyaluronic Acid, hydrolyzed collagen and extra ingredients for skin whitening and anti-aging effects such as 24K Gold Foil and Caffeine silanol C. The caffeine and hydrolysed collagen also helps to stimulate collagen production. The massager roller balls can help lymph node detoxification, reduce water retention and promote metabolism. With the improved nano crystallization technology and better absorption rate, Susenji Gold can also be used on your double chin, while Susenji Gel could only be used on the body with less efficacy.


4. What are the ingredients in Susenji Gold?
Aqua, Propylene Glycol, Betaine, Peg-10 Demthicone, Hydroxyehylcellulose, Hydrogenated Castor Oil, EDTA Trtrasodium, Panthenol, Vanillyl Butyl Ether, CAFEISILANE c, Acetyl Carnitine, Carbomer, Phenoxyethanol, Triethanoamine, Hydrolyzed Collagen, Sodium Hyaluronate, Aroma, 24K Gold


5. How long can one tube last?
One tube contains 130mls of gel. Depending on the area and frequency of usage, it can last around 30days. Use in the morning when your metabolism is the highest, then at night after shower after as our pores are open. Depending on your individual needs an areas of concern, we recommend 2-4 tubes. 1st tube is to let your body adapt, 2nd tube is the stage of optimal absorption stage, 3rd-4th tubes onwards is where the results are permanent.

6. Will my fats rebound if I stop using the Susenji Gold?
As with exercise, if you stop exercising and continue a high calorie diet, fats will be stored in the body. Results from Susenji Gold should be permanent unless you consume high caloric food. We recommend combining Susenji Gold with Susenji Mofa for best results.
7. How long to see effects?
Measurable results can be seen with one tube. For optimal results, the recommended number is 3-4 tubes.

8. Do you have instock?
Yes, all items listed and ready stocks unless otherwise stated on Instagram account @Missyloh_beauty.
9. Can I use if I'm trying to for a baby?
Yes, but only double chin, arms, and lower body.
10. Can I use if I'm pregnant/breastfeeding?
Pregnant woman can use Susenji Gold except for around tummy area. Breastfeeding mums can use as long as not near the breast area and axilla lymph nodes area.
11. Is it sticky?
No, it glides on like Aloe Vera gel. The Nano tech has improved and Susenji Gold can be absorbed even faster than before, leaving your skin smooth and not tacky at all.
12. Is it suitable for sensitive skin?
Yes, it can be used on any type of skin, with no side effects.

SUSENJI OHH! NANA
BEAUTY ORAL SUPPLEMENT