Highlights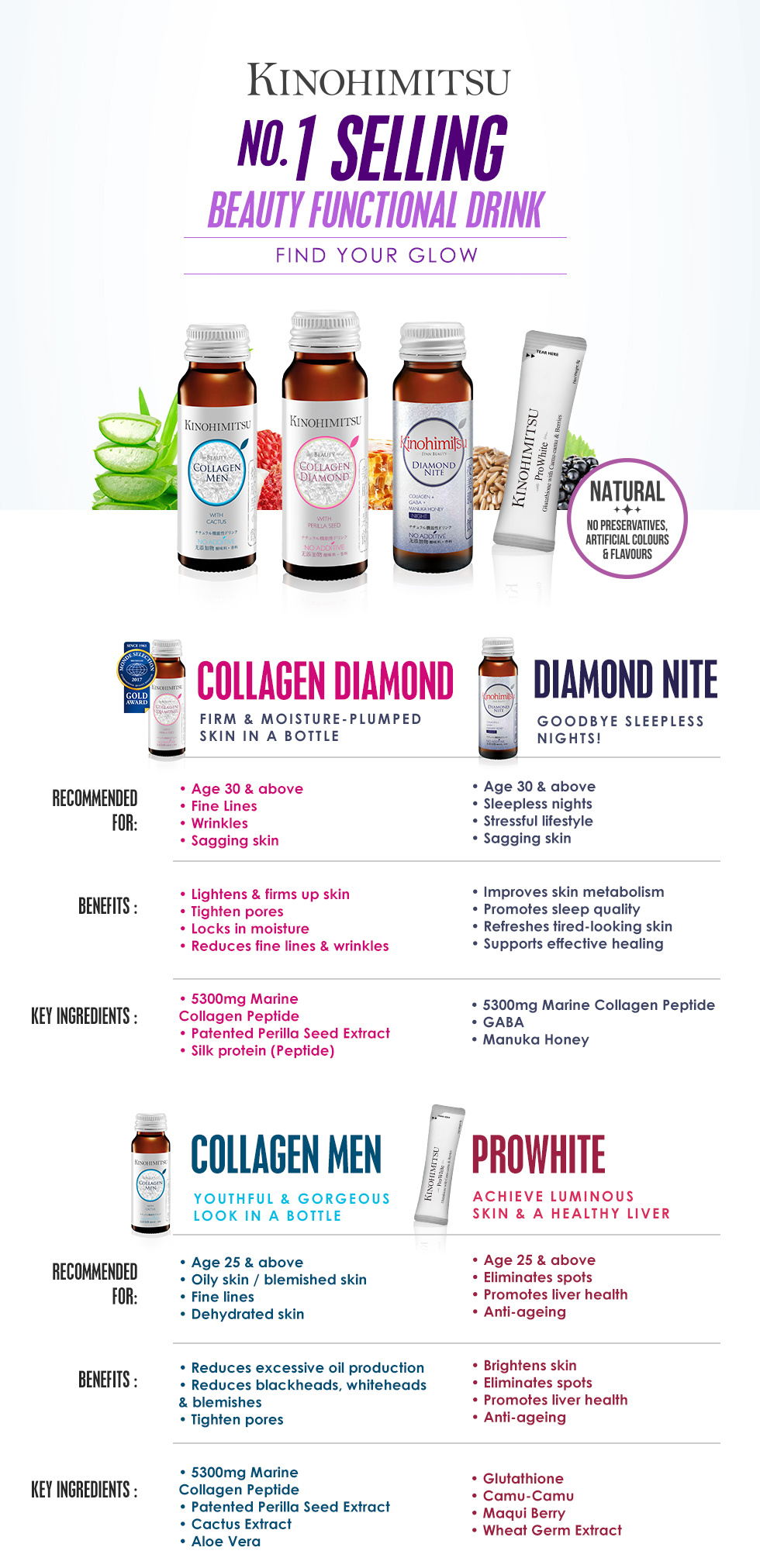 1. COLLAGEN DIAMOND 5300mg


As featured on HerWorldBeauty Awards for Readers' Choice !#!amp!*!
Winner for Best Skin Supplement (Aesthetics !#!amp!*! Beauty Awards)



Talked, raved and loved by Singapore bloggers




Bring it everywhere you go!


Bring it everywhere you go!
As raved by Jayne:
"I thoroughly enjoy the drink because of its sweetness and I was very surprised to learn that it is sugar free! The sweetness of the drinks are derived from the natural fruit extracts! Also, the collagen in the drink are from deep sea marine fish's scales, and that means high quality and pure form of collagen!"

"I don't usually say things like that but I highly recommend implementing Kinohimitsu as part of your daily routine. I am so in love with it that I even bought some more, just to stock up for both Vernon and I, hehehe.




(https://blog.myfatpocket.com/beauty-affair/2011/11/2052/)


Good Review by Customers
 (https://theswanple.blogspot.sg/2014/09/review-kinohimitsu-collagen-diamond.html)



Collagen Diamond 5300mg 
Kinohimitsu's collagen is extracted from the scales of DEEP SEA SALMONS, thus explaining the high quality and purest form of collagen found in our drinks. 
 
No Fishy Taste
Pure !#!amp!*! High Quality
EFFICIENT ABSORBENCY OF COLLAGEN BY OUR BODY

Perfect for holiday~

2. DIAMOND NITE (5300mg)


Kinohimitsu Diamond Nite Drink is the 
first and only collagen formula in the market
 that induces mind relaxation. In just 8 hours, it rejuvenates your body; improves skin metabolism and collagen synthesis.
As soon as in 6 days, skin becomes smoother and pores are less visible.




Having problems sleeping?



Dull, dehydrated skin?
Low metabolism rate?
Always stressed? 
Try

 KINOHIMITSU DIAMOND NITE

, 
one of our Kinohimitsu's best-sellers. 

MORE THAN 1,500++ POSITIVE REVIEWS
Loved and raved by our customers and bloggers!!

Real life customers' reviews
Do you know?
Kinohimitsu Diamond Nite not only supports a restful sleep, it also improves metabolism rate and recharge energy while restoring skin firmness and youthfulness too.
3. PROWHITE

Lighten Dark Spots, Freckles, Scars, Pigmentation 
and Uneven Skin Tone with 

Prowhite

!


ALWAYS UNDER THE SUN?
Applying sunscreen and sunblock is not enough to protect your skin!
Dark Eye Circles?
CONSTANTLY Stressed?
With Kinohimitsu Prowhite that is carefully formulated in Japan, it helps to:
Lighten Dark Spots

Lighten Pigmentations

Anti-Ageing

Brighten Skin

Eliminates Spots

Prevents Melanin Formation

Repair your skin Cell

Lighten dark Eye Circles

Maintain Healthy Liver
Prowhite contains 

Glutathione (Master Antioxidant that is most concentrated in our liver, acts as a powerful antioxidant to fight off free radicals) and two 'superfruits' - Camu-camu and Maqui Berry

, that works to eliminate spots and reduce oxidative stress! 

RESULTS?
SKIN IS SIGNFICANTLY IMPROVED:


SEE 

VISIBLE IMPROVEMENTS 

ON PEOPLE'S WHO BEEN TAKING REGULARLY:

QOO10 CUSTOMERS REAL LIFE REVIEWS!
All Kinohimitsu Products ARE 

100% NATURAL

. 

Kinohimitsu is the only collagen brand that is SGS certified - NO ADDITIVES, NO COLOURING, NO ARTIFICIAL FLAVOUR, NO CHEMICALS, NO HORMONES.
4. COLLAGEN MEN

Having oily skin? Enlarged pores? Fine lines? Tired and lacking of energy? Blemishes?


Kinohimitsu Collagen Men Drink is the FIRST ever collagen drink specifically catered to satisfy the needs of men's skin. 

Infused with 5300mg of Collagen Pepetide as well as excellent moisturising ingredients, Kinohimitsu Collagen Men Drink aids in:

- Reduce excessive oil production and creates a shine-free complexion
-Reduces and prevents blackheads, whiteheads and blemishes 
- Tightens pores for smooth skin 
- Plumping up skin
- Smoothening fine lines
- Regulating oil production
- Healing facial scars and restoring youthful vitality to the skin
- Protects, soothes and heals damaged skin cells and scars 



Get clearer, smoother, and visibly lifted skin in just 6 days.




100% Natural ingredients. 
No chemical, no preservatives, no sugar added, no hormones, no artificial colouring/flavouring.
*No hormone means that even females (who have oily - combination skin) are able to take Collagen Men too. Those who have been taking for a long-term basis have seen a reduction in blemishes, blackheads, pimples and less oil on their face!


5. BG DIAMOND


AS SEEN ON TV
The most advanced natural formulation of 
Kinohimitsu Collagen BG Diamond 
(16 bottles - worth one month's supply!) 

promises to radiate your beauty right from your heart. With Marine Collagen, Oat Beta-Glucan, Snow Fungus and Soy Isoflavone, this is the best ever functional drink that giving you beauty glow and health in a bottle.
FIRST COLLAGEN BRAND IN THE MARKET TO INTRODUCE 

HEALTH AND BEAUTY

 IN A BOTTLE

Protect your heart with Kinohimitsu BG Diamond 
as it helps to lower cholesterol level while maintaining healthy blood vessel walls and nourishing !#!amp!*! hydrating your skin at the same time!


Usage: 1 bottle a day, preferably before breakfast or bedtime. Shake well before drinking. Keep chilled for delicious taste.

First-time users: 1 bottle a day for a consecutive period of 6 days.

For maintenance: 1 bottle every 2 days.