Highlights
?
Carton Sales
?Tena VALUE Adult Diapers?
[PACK OF 8]

Tena Value M 12pcs




Tena Value L 10pcs
Introduction
Features and Benefits:
*Skin Soothing Layer Topsheet: Aloe Vera, Chamomile, Olive Extracts, Vitamin E
*Dry Fast Core with Super Absorbent Polymers to provide excellent urine retention and ensure excellent surface dryness.
*Anti Leakage Barrier provides maximum containment of urine and faecal and provide leakage effectively.
*Refastening Frontal Patch allows repeated adjustments of tape tabs for comfortable fitting and wear. *Wetness Indicator
*Body Shape Design


Why You'll Love It
TENA Value(open diaper), for moderate & heavy urine & suitable for faecal incontinence. Improved with 4 botanical extracts Aloe Vera, Olive Oil, Chamomile and Vitamin E, to create a skin soothing layer that's gentler and more comfortable on the skin.

Tena Slip Super M 10pcs




Tena Slip Super L 10pcs



Description
New TENA Slip launch with 3 value added features:
> ConfioAir™ 100% breathable textile-like sides and backsheet maintain dryness for comfort and healthy skin. Keeps moisture level to skin's natural level.
> Waist band allows better fit and prevents back leakage.
> Multi-fixation hook tape easy to fasten and adjust multiple times, to achieve a perfect fit.
Tape is strong and will not tear off easily.
TENA Super, unbeatable all-in-one protection with maximum absorption and security against leakage and suitable for faecal incontinence.
The hook tabs fastening system can be attached anywhere on the cloth-like non woven backsheet for secure fit.
FeelDry™ gives outstanding dryness, through quick inlet and excellent retention.
Bodyfitting curved leg elastics for improved fit, comfort and leakage security.
Easyfit™ readjustable hook tabs.
Waist elastic for snug, body-close fit.
Wetness Indicator color fades as the diaper gets wet.
Recommended to do diaper change when 2/3 wetness indicator faded.
Leakage barrier for maximum leakage security.
Odour Neutralizer™ to inhabit odour.
Up to 8 hours* absorption




Tena Pants Plus M 9pcs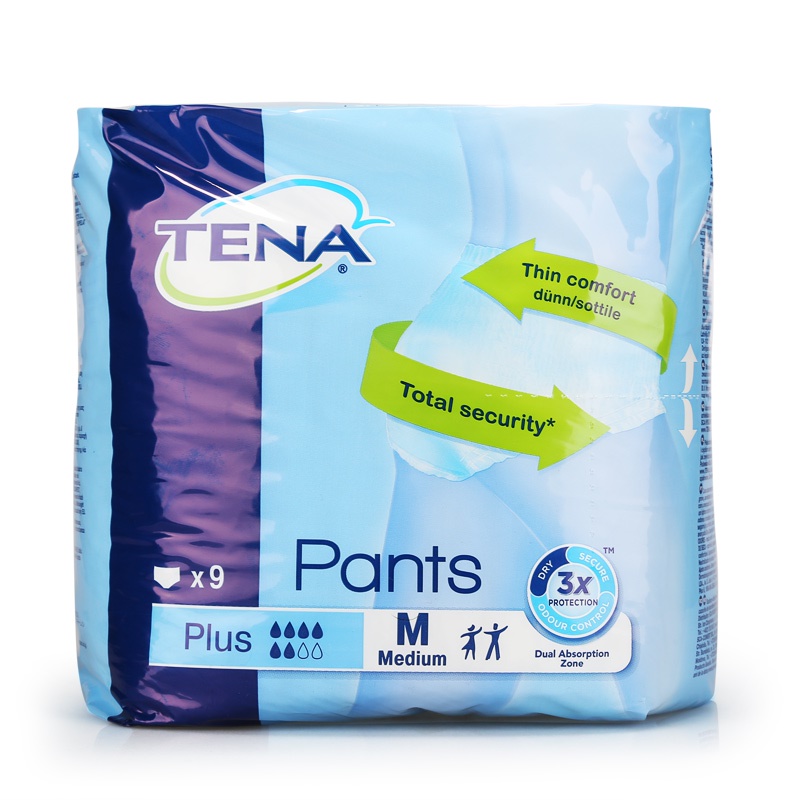 Tena Pants Plus L 8pcs



Tena Pants Plus XL 12pcs


TENA Pants, looks and feels just like underwear.
Designed for moderate to heavy urine loss, these pants are extra secure and worn like normal underwear.
The exceptional security is due to the FeelDry™ technology which rapidly absorbs even large quantities of urine into the core and away from the skin so that, even when seated or lying down for long periods of time, the wearer will stay dry and comfortable.