Highlights
?

BUY $90 FREE SHIPPING


???????


Raffine Perfect One Moisture Gel Shin Nihon Pharmaceutical 75g!!
??? ?????
!!  ???? Recommended  !!


Recommended on ????? Perfect One Moisture Gel 75g 



Item Descriptions
? It is 2015 October renewed products. [This 6 roles in one] ? to lotion ? milk ? cream ? Essence ? Pack ? every corner of the makeup base synthetic fragrances artificial coloring paraben additive-free age skin ? 1 ? 2 fresh moisture tension skin. Complex type lifting collagen EX ? 3 formulations. Gap without moisturizing the entire skin. In response to the dry part of the skin surface continuously enrich the new development as "intensive moisturizing collagen ? 4" consisting of "oil collagen ? 5" 7 kinds of different collagen of function plus "complex type lifting collagen EX ? 3 blended ". Horny layer from the surface of the skin further gap without moisturizing to the drying part to the skin with a fresh needle. Blended moisturizing component of 50 kinds ? 6. A more substantial moisture. Blended was extracted from rare domestic Wakan plant purple root "lithospermi radix extract ? 7" support the Hari lack of concern with age. In addition rice bran derived components "inositol ? 4" has trimmed the original work the skin while giving a high moisture will grant a smooth fresh comfortable to use. Other and hyaluronic acid formulated with moisturizing component of ceramide such as 50 kinds ? 6 gives a substantial moisture. ? 1: that of skin superimposed the age ? 2: until the stratum corneum ? 3: skin conditioning moisturizer ? 4: moisturizing ingredient ? 5: Isostearoyl hydrolyzed collagen (moisturizing ingredient) ? 6: including the collagen ? 7: purple root extract (moisturizing)

In this one role six
This is an all-in-one beauty care gel with the function of lotion, milky lotion, cream, essence, pack, makeup base.
Seven different collagens
Combined collagen EX * 1 , which combines seven types of collagen with different sizes . 
It penetrates to the corners of the stratum corneum, including the skin surface, approaches drying according to the condition and environment, and moisturizes the whole skin.
? 1: Skin moisturizing moisture content 
? 2: to the stratum corneum
Every time you use "Moisture Magnet * 1 ", charge firmly moisture
Combines moisture magnet * 1 which adheres to horny matter and compensates for moisture . Every day with skin care, I charge the moisture every time I use it.
* 1: Isomerized sugar (moisturizing component)
Three non-added
Synthetic perfume, synthetic coloring, paraben is not added.

How to use
[Amount used] About 2 cm in diameter (spatula)



1. Please use on the skin after cleansing. Pour gel on 5 cheeks, cheeks, forehead, nose head and chin.
2. Skip from the center of the skin to the outside, from the bottom to the top as you lift and stretch. Let's blend it gently with your fingers not to scrape your skin.
3. If you spread the gel on the whole face, envelop the entire face for about 30 seconds with the palm of your hand and let it blend it carefully. Do not worry about drying eyes etc. Overpainting.

Tips : for dry skin, it is recommended to apply the gel to the entire face once more before going to bed.



This is the most refreshing and comfortable all-in-one skin care product I have ever used: Japan Perfect One full-effect water gel cream



Since it is the maintenance of all-in-one, it contains six maintenance functions: lotion , lotion ,cream , essence , mask , makeup cream



This can has a close-knit spoon and lid to keep it clean, personally feel pretty good~



There are 7 kinds of collagen + 50 kinds of moisturizing ingredients , which can really help the skin to moisturize. It does not add any spices and preservatives, so it is very mild to the touch. 
It is clearer and more transparent than general gel cream products! ! !
You can see that the whole bottle in the photo is so transparent and bright.


And it's just like smearing it like water, although there are no drops of water, but the whole is like being soaked in water, very moist!

That is it super! level! clear! Cool!
All-in-one's skin care products can be so refreshing to such an incredible, it is the most refreshing and all-in-one that I have used in my life!
And there is no gel or film-like feeling at all, and the skin is absorbed immediately! Not sticky at all!
This is simply a summer sacred thing~~~ It is very suitable for Singapore's sticky and greasy weather!
If you are like me, there is almost no time to spend on maintenance, or you are too lazy to wipe too many bottles and cans.
I recommend this all-in-one full-effect water gel cream!
Perfect One is a Japanese brand of skin care products, the whole series has been introduced to Taiwan 


All ingredients :Water, glycerin, dimethicone, BG, ethanol, DPG, pentylene glycol, water soluble collagen, hydrolyzed collagen, succinoyl atelocollagen, 
isostearoyl hydrolyzed collagen, hydroxyproline, inositol creatine, swabbing peel extract, soybean placenta extract, Decomposed hyaluronic acid, 
hyaluronic acid Na, hydrolyzed elastin, water soluble proteoglycan, purple root extract, pearl wheat seed extract, peony root extract, squalane, 
ceramide 1, ceramide 2, ceramide 3, ceramide 6 II, PCA - Na, serine, glycine, Glutamic acid, Alanine, Lysine, Arginine, Threonine, Proline, 
Otaninindine root extract, Saccharomyces solubilized extract, royal jelly extract, hybrid rose flower extract, Himefuro extract, ghetto leaf extract,? 
European Aquinophila extract, poly-?-lysine, polyglutamic acid, isostearic acid, sodium chondroitin sulfate, betaine, glycosyl trehalose, sorbitol, 
hydrogenated polyisobutene , Hydrolyzed hydrogenated starch, ascorbyl phosphate Mg, tocopherol, sodium alginate, soybean sterol, 
cyclopentasiloxane, dextrin, carbomer, (acrylates / alkyl acrylate (C10-30)) crosspolymer, polyacrylamide, hydrogenated lecithin, Polysorbate 60, 
dimethylsilylated silica, silica, behenyl alcohol, laureth-7, sodium hydroxide, phenoxyethanol, orange oil, Roman chamomile flower oil
Perfect One Super Moisture Gel 75g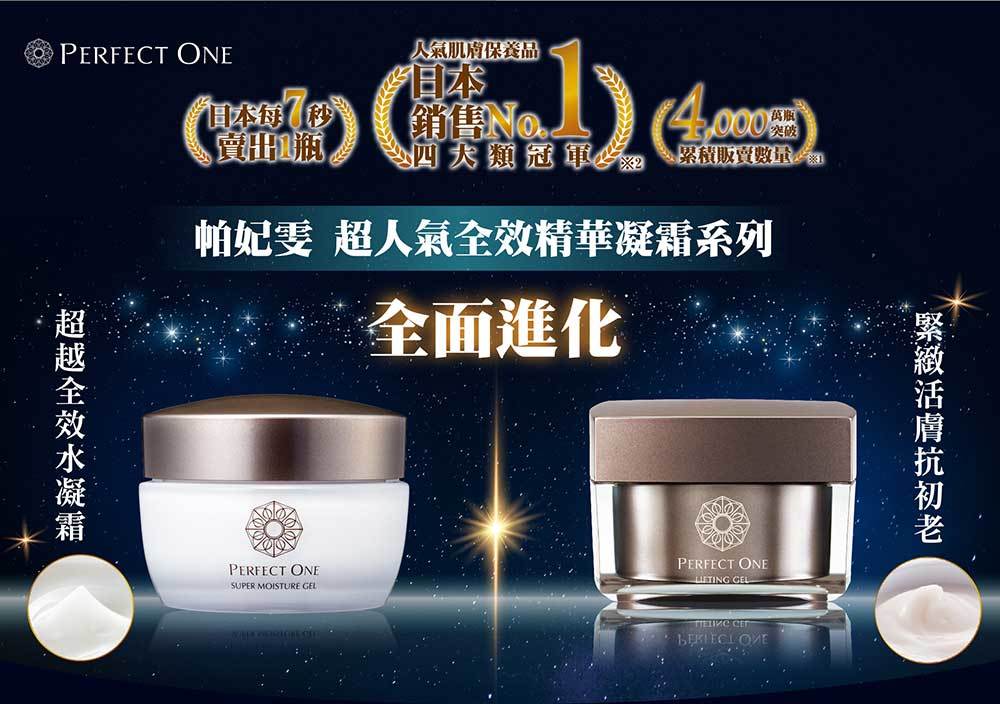 Perfect One Lifting Gel 50g 



Perfect One Whitening Gel 50g